Affligem Blond Abbey Ale
Beer, 300 mL
| | |
| --- | --- |
| Country : | Belgium |
| Producer : | Alken Maes |
| Website : | www.affligembeer.be/ |
| Alcohol : | 6.8 % |
| Grape variety(ies) : | Belgian Pale Ale |
| Style : | Medium & Spicy |
| Color : | Blond |
| Classification : | Refermenté en bouteille |
| Container : | Coloured Glass Container |
| Closure : | Standard Crown Cap |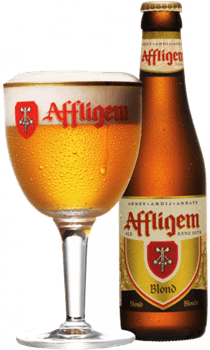 Tasting note
Pale gold colour; complex nose of dried fruit, malt and spices; full bodied with balanced palate, dried fruit flvaours and a bitter finish.
Classic Belgian Abbey Beer style known as the Burgundoes of Belgium . Affligem uses only whole leaf hop flowers (no extracts) and is 100% natural.
Belgian yeast aromas waft up from the glass, pulling coriander, black pepper, and clove in the nose; sweet, bready malts and slightly grassy, perfumy hops thicken the bouquet.
Balanced with flavours of citrus, spice and malt, this blond abbey ale is medium-bodied with creamy mousse. With a touch of hops on the finish, it is excellent with tapas. (OCTOBER 2013 INSIDER PICK by Kim Giesbrecht, Portfolio Manager for Beer, Refreshment Beverages, Australia and New Zealand Wines)