Absolut
Vodka, 750 mL
| | |
| --- | --- |
| Country : | Sweden |
| Producer : | The Absolut Company |
| Website : | www.absolut.com |
| Alcohol : | 40 % |
| Style : | Clean & Classic |
| Container : | Clear Glass Container |
| Closure : | Metal Screw Cap |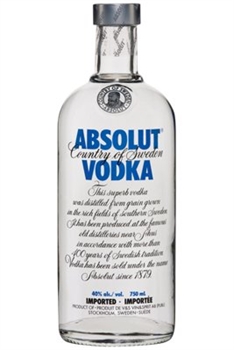 Tasting note
Absolut's iconic bottle was inspired by an 18th-century medicine bottle found in an antique shop in Stockholm, Sweden. Made exclusively from natural ingredients, showcasing subtle flavours of grain and dried fruit. On the palate, it is full, rich and as smooth as vodka can be. Enjoy with tonic water and garnish with lime.
Smooth and light-bodied.
Absolut Vodka is very clear with aromas of soft grains. Its palate is medium-bodies and warm with a hint of softness leading to a clear and soft finish.
Since 1879, ABSOLUT vodka has been distilled from grain grown in Southern Sweden in a process steeped in more than 400 years of Swedish tradition. A truly global brand, ABSOLUT is now found in over 100 countries worldwide.
Absolut Vodka is made exclusively from natural ingredients and it doesn't contain any added sugar. It is rich, full-bodied and complex, yet smooth and mellow with a distinct character of grain, followed by a hint of dried fruit.