Alberta Premium Whisky Canadien De Seigle
Whisky, 750 mL
| | |
| --- | --- |
| Country : | Canada |
| Region : | Alberta |
| Producer : | Alberta Distillers (Beam Global Spirits) |
| Alcohol : | 40 % |
| Grape variety(ies) : | Canada |
| Style : | Medium & Spicy |
| Color : | Amber |
| Container : | Clear Glass Container |
| Closure : | Metal Screw Cap |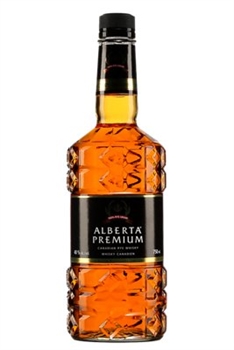 Tasting note
The authentic flavour of prairie rye and careful barrel ageing gives this whisky a golden amber colour and an aromatic sweet bouquet of banana, toffee, and light spice. The flavour is mellow and slightly smoky with a lively woody edge on a medium weight palate that finishes with a hint of hot cinnamon spice.
Golden in colour, made from 100% rye, with a nose that is dry with hints of rye and some very subtle floral notes. After a minute the rye become more apparent and some of the sweetness starts to come out. On the tongue, the rye is apparent and provides a good bite.
Alberta Premium is a smooth whisky with subtle floral notes on the nose and rye characteristic and a pleasant sweetness on the palate. It has a good, clean finish with some warmth.
Jim Murray's rates this quality liquid 95 points in his annual Whisky Bible. Made from 100% rye and aged 5 years, this quality liquid brings to you spicy & peppery notes, while staying smooth to the palate from its aging. Great in a Manhattan or an Old Fashioned.
Always a favourite with the critics and at an amazing price, Alberta Premium is beautiful and complex, 100% rye based that unleashes its grainy punches around the palate in succession, a classic Canadian treasure. "For the price you can't go wrong, always a favourite with the critics. One of the only 100% rye based Canadian Whiskies on the shelf." ~ Adele Shaw, Category Manager for Spirits, Wines of South Africa, Fortified and Asian Wines.