Beefeater
Dry gin, 375 mL
| | |
| --- | --- |
| Country : | United Kingdom |
| Region : | England |
| Producer : | James Burrough Limited |
| Website : | www.beefeatergin.com |
| Alcohol : | 40 % |
| Style : | Medium & Citrus |
| Container : | Clear Glass Container |
| Closure : | Metal Screw Cap |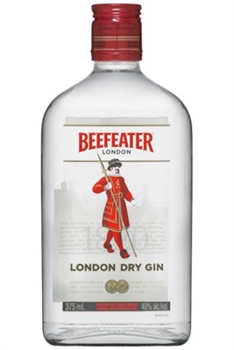 Tasting note
Produced from a unique recipe right in the heart of London since 1863. It has stood the test of time and is regarded as one of the world's most awarded gins. Dominated by strong juniper character and vibrant citrus notes with a smooth palate that is authentic to London dry gin.
A particularly fresh, clean and crisp gin with a key note of juniper, a subtle citrus and fruit edge, balanced by the spice of coriander and the earthiness of angelica. Beefeater® is a versatile, sociable spirit: Its multi-dimensional character means it blends well with other flavours.
The aroma of beefeater Gin is both spicy & fruity, with a nice balance & a focus on the flavor of juniper. The palate is dry but ideally balanced with a herbal bouquet. Its finish is dry with citrus notes.