Bombay Sapphire
Dry gin, 1.14 L
| | |
| --- | --- |
| Country : | United Kingdom |
| Region : | England |
| Producer : | Bombay Spirits Company |
| Website : | www.bombaysapphire.com |
| Alcohol : | 40 % |
| Style : | Subtle & Floral |
| Classification : | London dry gin |
| Container : | Coloured Glass Container |
| Closure : | Metal Screw Cap |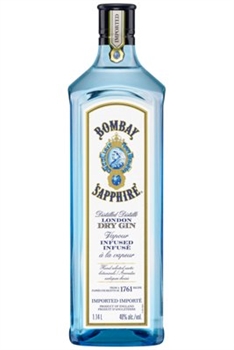 Tasting note
Created from a combination of ten botanicals, including juniper berries from Tuscany, which are vapour infused for delicate extraction. This process results in elegant aromas and complex flavours that ate clean and balanced with a crisp finish.
Ten carefully selected botanical ingredients are infused with the distilled spirit for a cleaner, crisper, more balanced taste.
Clear water white; complex mix of herbs and juniper on the nose with crisp lemon peel and citrus flavours; smooth and refreshing.
Bombay Sapphire utilizes a unique vapor infusion process where the essences of the botanicals are imparted to the spirit while it is in vapor form; unlike other gins that boil their botanicals directly with the spirit. Bombay Sapphire has a ripe citrus aroma with rounded spice and a touch of juniper. The flavors from the 10 botanicals create a gentle, aromatic taste layered with citrus, exotic spices and a hint of sweetness.