Cardhu Speyside Single Malt Scotch Whisky
Scotch, 750 mL
| | |
| --- | --- |
| Country : | United Kingdom |
| Region : | Scotland |
| Subregion : | Vallée de Spey |
| Producer : | Diageo Scotland Limited |
| Website : | www.diageo.com |
| Alcohol : | 40 % |
| Grape variety(ies) : | Scotland Malt |
| Style : | Medium & Floral |
| Color : | Golden |
| Classification : | 12 ans |
| Container : | Clear Glass Container |
| Closure : | Cork |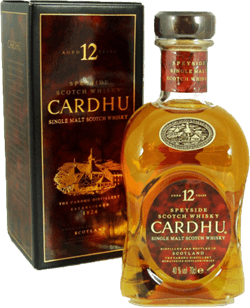 Tasting note
Pioneered by Helen and Elizabeth Cumming, two of the earliest female distillers, this medium gold dram is known for its sweet aromatics and rich palate of orange, dark chocolate, delicate smoke and toffee; the finish is gentle with notes of cinnamon and cedar smoke.
Aromas of sweet apple blossom and heather. Well-balanced with a warming, slightly dry finish.
The Malt itself is pretty typical of a Speyside malt. It is highly approachable - smooth, sweet, mellow and uncomplicated and has good body and length.
Swirl Cardhu in the glass, admiring its golden colour and smooth texture. Inhale lightly to appreciate the layers of subtle aromas you have just released. Then taste, to discover a smooth, rich flavour with delicious layers of fruit, honey and nutty sweetness that will delight all, with or without ice.
Featured in TASTE Magazine, Winter 2012 issue. Made since 1824, the 12-year-old Cardhu (Gaelic for black rock) is an accessible, light and bright single malt. It is fragrant with heather, honeyed vanilla, fruit and smoke. Smooth, and well-balanced with nutty, sweet malty flavours, it finishes mildly spicy and warm. Enjoy neat, with water or on the rocks.