Coffret Jack Daniel's Avec Deux Verres
Whisky, 750 mL
| | |
| --- | --- |
| Country : | United States |
| Region : | Tennessee |
| Producer : | Jack Daniel Distillery |
| Website : | www.brown-forman.com/ |
| Alcohol : | 40 % |
| Style : | Medium & Sweet |
| Color : | Amber |
| Container : | Clear Glass Container |
| Closure : | Plastic Screw Cap |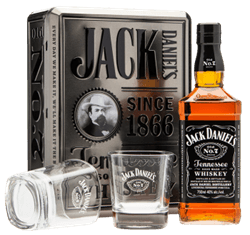 Tasting note
This smooth, charcoal-mellowed American favourite comes knocking this holiday season with a pair of rocks glasses, perfect for sharing a toast.
Jack Daniel's 750 ml and two branded glasses in a gift tin.
Jack Daniel's laced with honeycomb, toasted nuts and delicate hints of molasses, chocolate and pralines.
Jack Daniel's Tennessee Whiskey Old No.7. We charcoal mellow our whiskey drop by drop, then let it age in our own handcrafted barrels. Our Tennessee Sipping Whiskey is ready only when our tasters say it is. We use our senses, just like Jack Daniel himself did. In fact, more than a century later, our Tennessee Whiskey is still judged the same way. By the way it looks, it smells, and of course the way it tastes.