Crown Royal
Whisky, 750 mL
| | |
| --- | --- |
| Country : | Canada |
| Producer : | Diageo |
| Website : | www.crownroyal.ca |
| Alcohol : | 40 % |
| Grape variety(ies) : | Canada |
| Style : | Subtle & Sweet |
| Container : | Glass |
| Closure : | Screw-top |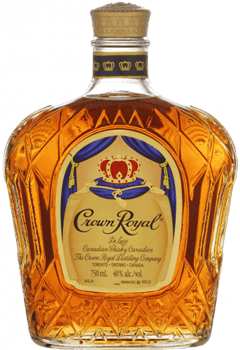 Tasting note
Aging in both new and seasoned white oak barrels give Crown Royal its unique flavour profile that has garnered fans the world over. Light amber in colour the nose is lightly floral with corn, buttery/vanilla and peach aromas; on the palate look for light sweet peach flavour with wood spice on a dry finish.
Rich, golden amber colour. On the nose, is a rich and robust aroma with slight hints of vanilla and fruit. This is a full-bodied whisky, balanced to a smooth creaminess with hints of oak and sweet vanillas and a long, clean finish.
Delicately smooth and creamy, with hints of oak and the sweet flavor of vanilla.
This legendary whisky, created in 1939 to celebrate the visit of the King of England, has a blend of fifty distinct, full-bodied whiskies matured in white oak barrels. Crown Royal has a taste profile defined by smoothness, enhanced by a rich, lingering finish.