Crown Royal Black
Whisky, 750 mL
| | |
| --- | --- |
| Country : | Canada |
| Producer : | Diageo |
| Website : | www.crownroyal.ca |
| Alcohol : | 45 % |
| Grape variety(ies) : | Canada |
| Style : | Medium & Spicy |
| Container : | Glass |
| Closure : | Screw-top |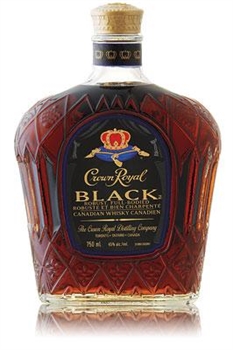 Tasting note
Matured in charred oak casks and blended at a higher proof to deliver a more concentrated, full bodied flavour; it pours a dark copper and offers aromas of orange peel, bruised apple, vanilla and cinnamon. The palate is creamy with flavours of sweet spice with toffee and dried apple followed by a warming finish.
Dark red-brown in colour. Oak background with maple notes and light vanilla on the nose. A creamy profile, with dried fruit notes on the finish.
An internationally recognized brand. Crown Royal Black has a subtle nose of grain, dark sweet maple and deep oak character. The palate is velvety smooth with notes of dried fruit and has a wonderful smooth finish with hints of light vanilla.
Robust, with hints of oak and bourbon. Delicate notes of fruit, spice and vanilla. Signature legendary smoothness.
Rich, dark red brown in colour with dried fruit and bourbon notes on the nose, Crown Royal Black has smooth-tasting, delicate fruit and soft vanilla flavours. It is well-balanced by a hint of oak, sweet bourbon and raisin in the full, long finish. Try making a Crown Royal Black & Apple Juice: Fill a glass with ice. Pour in 1 1/2 oz (45 ml) Crown Royal Black and 3 oz (90 ml) apple juice. Stir to combine and serve garnished with an apple wedge. For more Drink Recipes, visit our Drink Recipes page.