Crown Royal Cask No. 16
Whisky, 750 mL
| | |
| --- | --- |
| Country : | Canada |
| Region : | Ontario |
| Producer : | The Crown Royal Distilling Co. |
| Website : | www.diageo.com |
| Alcohol : | 40 % |
| Grape variety(ies) : | Canada |
| Style : | Medium & Sweet |
| Color : | Amber |
| Container : | Clear Glass Container |
| Closure : | Cork |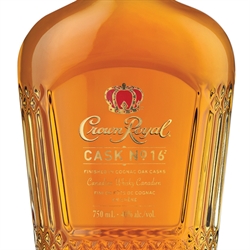 Tasting note
Bright amber colour with golden tints; aromas of sweet vanilla spice, caramel, dried apricot, honey and chocolate; rich and silky smooth, flavours of toffee, dried fruits, and vanilla linger through to the long finish.
A unique blend of more than 50 different individually aged whiskies are placed in rare cognac casks made of Limousin oak. These casks impart subtle hints of rich, dried fruit and create the balanced, yet complex taste. A slightly fruity aroma with hints of peach, pear and spice subside into a long and pleasant finish.
Crown Royal's master blender begins with the unique blend of over fifty different individually aged whiskies. Exceptional in character and taste, this special blend is placed in the casks, which impart subtle hints of rich dried fruit and create the balanced yet complex taste of Crown Royal Cask No. 16.
The oak/fruitiness of the cognac and the whisky grains create layers of flavor- butterscotch, then vanilla, with notes of dried raisin. Nutty, woody with hints of peach and pear.
Cask No. 16 is rich and aromatic with hints of spicy pear and notes of dried raisins. Balanced yet complex, grain characters are perfectly complimented by the cognac's fruity-oakiness. Layers of rich and aromatic butterscotch, vanilla and dried raisins delight the palate, with a sweetness that subsides into a clean, long finish. Malt Advocate Best Canadian Whisky 2010