Disaronno Amaretto Originale
Liqueur, 1.14 L
| | |
| --- | --- |
| Country : | Italy |
| Producer : | Illva Saronno SPA |
| Website : | www.disaronno.com |
| Alcohol : | 28 % |
| Style : | Smooth & Nutty |
| Color : | Amber |
| Container : | Clear Glass Container |
| Closure : | Plastic Screw Cap |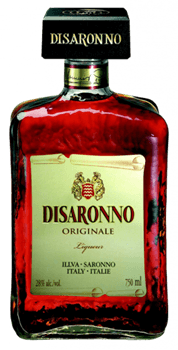 Tasting note
Pale amber in colour; intense aromas and flavours of sweet almonds, nuts and maraschino cherry; the palate is sweet and medium body with a smooth finish.
A blend of 17 selected herbs and fruits soaked in apricot kernel oil. The aroma is a blend of toasted almond, marzipan, an assortment of fruits and hints of spices and herbs.
Disaronno has an almond and maraschino cherry aroma. It's full-bodied flavour is a very sweet cherry with a hint of caramel, and presents a bite of alcohol on the finish.
Disaronno is made using only the highest quality natural ingredients including the pure essence of 17 herbs & fruits soaked in apricot kernel. With its golden amber hue and richly nuanced flavor, Disaronno is a unique premium liqueur with elegant taste & versatility.