Drambuie
Liqueur, 750 mL
| | |
| --- | --- |
| Country : | United Kingdom |
| Region : | Scotland |
| Producer : | The Drambuie Liqueur Co.Ltd. |
| Website : | www.drambuie.com |
| Alcohol : | 40 % |
| Style : | Smooth & Herbal |
| Color : | Amber |
| Container : | Coloured Glass Container |
| Closure : | Cork |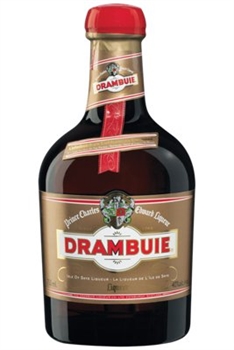 Tasting note
golden colour; herbs, spice, honey and smoky scotch aromas; rich flavours match the aroma, with long warm finish
Herbal and spicy with smoky scotch whiskey on the nose. Sweet smooth flavour on the palate.
Drambuie is a premium Scotch whisky-based liqueur from Scotland. It is a secret blend of the finest Scotch Whiskies (many of which are 15 to 17 years old), pure heather honey and herbs and spices. The ancient family recipe originates from Bonnie Prince Charlie in 1745 and is known only to the MacKinnon family. Honeyed, rich sweetness masks any bite from the whisky, leaving it smooth and warming with a heathery complexity.
A complex multi-layered drinking experience with rich, herbal, spicy flavors, blended with a deep malt whisky body. The name coming from the ancient Gaelic term for: The Drink That Satisfies.
Featured in TASTE Magazine, Winter 2012 issue.Bonnie Prince Charlie's favourite whisky liqueur is the perfect warmer on a cold day. A blend of aged malt whiskies, heather honey and secret recipe of herbs and spices, it is a sweet, honeyed liqueur with a hint of spices such as nutmeg, saffron and anise. It is very mellow and easy to drink.