Fireball
Liqueur, 750 mL
| | |
| --- | --- |
| Country : | Canada |
| Region : | Quebec |
| Producer : | Sazerac Company Inc. |
| Website : | www.sazerac.com |
| Alcohol : | 33 % |
| Style : | Vibrant & Spicy |
| Color : | Amber |
| Container : | Clear Glass Container |
| Closure : | Metal Screw Cap |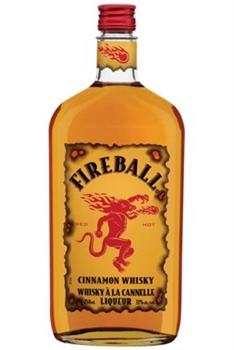 Tasting note
The blending of smooth Canadian whisky and intense cinnamon flavour result in a bold shot that is fragrant with pronounced aromas of cinnamon and spice; on the palate the spicy flavours of cinnamon intermingle with caramel notes on a long, hot finish.
Bittersweet cinnamon fragrance and sweet, spicy, cinnamon flavour.
Golden amber colour; hot cinnamon with a touch of caramel in aroma; balanced cinnamon heart flavour, not too sweet, not too hot.
Fireball Cinnamon Whisky needs no introduction. If you haven't tried it just imagine what it's like to get a Chuck Norris roundhouse kick to the face if his legs were on fire and tasted like cinnamon. Live it, love it, shoot it - your Dad's whisky never tasted so smooth. What happens next is up to you.
This is one hot, spicy liqueur. Think Red Hots or Hot Tamales candies with their zingy cinnamon flavour delivering a distinctive burn. Not at all sweet or sticky, but with an appealing flavour and texture from the whisky base. Enjoy it in chai tea.