Frangelico Liqueur De Noisette
Liqueur, 750 mL
| | |
| --- | --- |
| Country : | Italy |
| Region : | Piemont |
| Producer : | DCM SPA |
| Website : | www.frangelico.com |
| Alcohol : | 24 % |
| Style : | Smooth & Nutty |
| Color : | Brown |
| Container : | Glass |
| Closure : | Screw-top |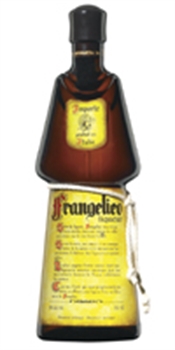 Tasting note
Golden colour; rich hazelnut aroma; sweet hazelnut flavour, smooth and rich
Wonderful toasted wild hazelnuts, found only in the Italian North, combined with cocoa, vanilla, berries and a host of other natural flavours make up Frangelico's complex recipe. Oak casks add character and maturity to the final golden liqueur.
The original hazelnut liqueur with a unique personality and flavor born in the Piedmont region of Italy. This irresistible blend of toasted hazelnut, with just a breath of vanilla and cocoa, results in a liqueur that is fragrant and sensuous, while surprisingly light. The iconic packaging, shaped like a monk's robe with a traditional rope belt, reflects the intriguing monastic history and the 17th century recipe. Frangelico's hazelnut deliciousness will add a nutty dimension to your favorite cocktails.
As Featured in TASTE Magazine, Summer 2012. This bright amber liqueur is made from toasted wild hazelnuts combined with cocoa, dried vanilla beans and a host of other natural extracts. The complex flavours complement the nutty, fruity and floral elements of this sweet dessert.