Gibsons Finest Sterling
Whisky, 750 mL
| | |
| --- | --- |
| Country : | Canada |
| Region : | Ontario |
| Producer : | William Grant & Sons |
| Website : | www.grantswhisky.com |
| Alcohol : | 40 % |
| Grape variety(ies) : | Canada |
| Style : | Subtle & Fruity |
| Container : | Glass |
| Closure : | Screw-top |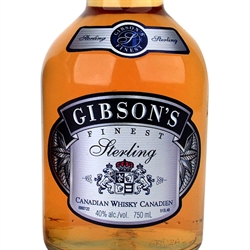 Tasting note
Blended for subtlety and smoothness this pours a pale amber with gold highlights; the nose is subtle with aromas of spicy rye, citrus, toasted oak, dried fruit and caramel. Medium-bodied, with an approachable and silky mouthfeel; flavours of toasted grains, citrus, spice and baked apple come together on a elegant finish.
A golden amber whisky with rich oak, caramel and vanilla aromas and flavours with a warm finish.
A superb blend of rate-aged Canadian whiskies. Masterfully distilled, tenderly aged and blended to perfection. The combination of these aged whiskies results in a superior blend with a unique smooth taste. Sterling Edition offers consumers a superior quality liquid at a reduced price. It appeals to both entry level drinkers as well as everyday connoisseurs
Golden amber, Aromas of fresh cut oak, hints of cocoa and delicate nuttiness. On the palate, fruity with a light taste of oak and hints of vanilla. The finish is pleasant and crisp.
*Please note that prices shown exclude taxes. Taxes and container deposit, if applicable, will be applied at checkout. The price disclaimer below may not be correct.*