Goslings Black Seal
Rum, 750 mL
| | |
| --- | --- |
| Country : | Bermuda |
| Producer : | Goslings Brothers |
| Website : | www.goslingsrum.com |
| Alcohol : | 40 % |
| Grape variety(ies) : | Dark Rum |
| Style : | Bold & Sweet |
| Container : | Glass?mode=1%275e34%2520or%25201%25... |
| Closure : | Screw-top?mode=1%275e34%2520or%25201%25... |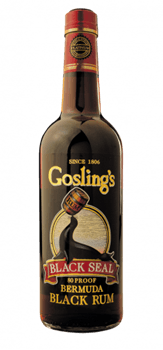 Tasting note
Deep amber colour; sweet, spicy molasses aromas with hints of fruit, vanilla and smoke; smooth intense flavour with a dry finish.
Thick, less sweet, with a firm caramel taste. It also possesses a roasted taste that makes it rather chewy and adds bitterness to balance what sweetness it has.
Deep, assertive and highly flavoured. Very fragrant with herbal sharpness. At the finish there is a softness and elegance. A most complex, unusual spirit.
*Please note that prices shown exclude taxes. Taxes and container deposit, if applicable, will be applied at checkout. The price disclaimer below may not be correct.*