Hendrick's
Dry gin, 750 mL
| | |
| --- | --- |
| Country : | United Kingdom |
| Region : | Scotland |
| Producer : | William Grant & Sons Distillers Ltd |
| Website : | www.grantswhisky.com |
| Alcohol : | 44 % |
| Style : | Bold & Floral |
| Container : | Coloured Glass Container |
| Closure : | Cork |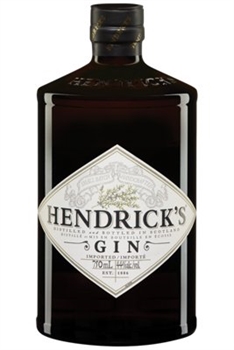 Tasting note
Infused with Bulgarian Rosa Damascena and specially selected cucumbers from the finest producers, Hendrick's prides itself on being a bit out of the ordinary. The eleven botanicals intermingle with rose and cucumber to create a palate of floral, juniper, citrus and cucumber flavours balanced with a creamy texture.
William Grant & Son uses two stills, one of which is a Carterhead Still from the 19th Century. Each one of the stills separately processes the two main ingredients/flavours of the gin – rose petals and cucumbers. These are then combined with 11 botanicals and the fermentation process begins.
Hendrick's Gin is medium bodied, crisp and lean with a long, lingering finish that has an unexpected infusion of cucumber and rose petals. No other gin tastes like it because no other gin is made like it.
Colour: Clear and colourless. Taste:  Subtle and balanced juniper and citrus flavours with a hint of rose and cool cucumber. Nose:  Floral rose with juniper, citrus and cucumber aromas. Finish: Soft and smooth with a subtle lingering finish.
AUGUST 2014 Insider Pick from Adele Shaw, Portfolio Manager for Spirits, Fortified, Fruit, South African and Asian Wines: "Produced in Scotland, Hendricks is a premium gin that has a unique infusion of rose petals and cucumber added to enhance the traditional gin flavours of Juniper and citrus. This is an elegant gin that has a silky smooth finish and beautiful fresh aromas. A perfect summer gin." As featured in Taste Magazine, Spring 2013. Try this in the cocktail recipe: Cool Cuke