Iceberg
Vodka, 1.14 L
| | |
| --- | --- |
| Country : | Canada |
| Region : | Newfoundland and Labrador |
| Producer : | Canadian Iceberg Vodka Corp. |
| Website : | www.icebergvodka.com |
| Alcohol : | 40 % |
| Style : | Clean & Classic |
| Container : | Clear Glass Container |
| Closure : | Metal Screw Cap |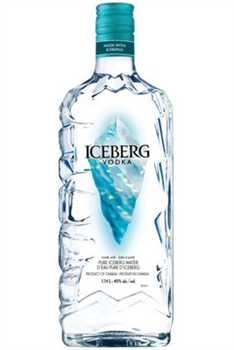 Tasting note
Made with water harvested from icebergs off the coast of Newfoundland and Labrador. Creating a spirit that is crystal clear in the glass with delicate aromas of citrus; the palate is remarkably pure and smooth-tasting with a crisp finish. Create the ultimate Canadian cocktail by using this to mix up a Caesar.
Grainy nose with delicate citrus notes. Clear, colourless with some heat on the finish.
Made up of millenniums of snowfall from the last Ice Age, the naturally pure water hiding inside these beasts is pristine. Untouched and Uncompromised. Free of all man-made contaminants, this rare form of water is blended with a peaches and cream sweet corn spirit. Iceberg is a remarkably smooth, unique and truly Canadian Vodka. Only we have the power and beauty of an Iceberg in our product and we harness it to produce the World's Cleanest, Purest and Pristine Vodka.
This award winning Vodka is smooth, complex and subtle with an excellent finish and no burn. Clear as ice, Iceberg Vodka is the world's purest vodka.