Jack Daniel's Old No 7
Whisky, 3.0 L
| | |
| --- | --- |
| Country : | United States |
| Region : | Tennessee |
| Producer : | Jack Daniel Distillery |
| Website : | www.brown-forman.com/ |
| Alcohol : | 40 % |
| Grape variety(ies) : | Usa Whiskey |
| Style : | Medium & Sweet |
| Color : | Amber |
| Container : | Clear Glass Container |
| Closure : | Cork |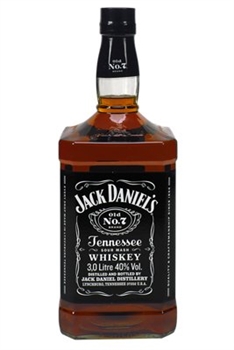 Tasting note
Established in 1866, Jack Daniel's was the first registered distillery in the United States. The distillery is located in the dry city of Lynchburg which only adds to the unique legend of the spirit. Light gold with corn meal, caramel and cedar aromas; the palate is smooth and sweet with a slightly spicy finish.
Well-rounded and balanced with notes of caramel, vanilla and wood and light fruit on the nose. Twice distilled and aged a minimum of four years in new, charred, white oak barrels.
Exhibits a high degree of fruit, confectionary and developing wood notes with pronounced spice. The finish of the whiskey becomes a more important feature for this style.
We charcoal mellow our whiskey drop by drop, then let it age in our own handcrafted barrels. Our Tennessee Sipping Whiskey is ready only when our tasters say it is. We use our senses, just like Jack Daniel himself did. In fact, more than a century later, our Tennessee Whiskey is still judged the same way. By the way it looks, it smells, and of course the way it tastes.