Johnnie Walker Gold Label Reserve Scotch Blended
Scotch, 750 mL
| | |
| --- | --- |
| Country : | United Kingdom |
| Region : | Scotland |
| Subregion : | Vallée de Spey |
| Producer : | John Walker & Sons |
| Website : | www.johnniewalker.com |
| Alcohol : | 40 % |
| Grape variety(ies) : | Scotland Blend |
| Style : | Subtle & Smoky |
| Color : | Golden |
| Container : | Clear Glass Container |
| Closure : | Cork |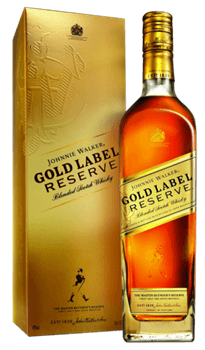 Tasting note
Said to be a tribute to the harmonious partnership of Speyside and Highland Whisky this deep amber coloured malt offers aromas of sandalwood, spiced vanilla, toffee and campfire; on the palate it is hot with flavours of roasted nuts, smoke, vanilla and a touch medicinal on the finish.
Aromas of sweet fruits, honey and gentle smoke. Flavours of vanilla, honey and citrus fruits.
GOLD LABEL is an exclusive combination of rare single malts and grains. The unusual silky, honeyed blend has a delicate smoothness for a wholly distinctive taste
The whisky used in this blend gives an immediately succulent flavor. Soft, floral, and silky vanilla tones, along with a creamy peach flavor, leave a light sweetness in the mouth. Fresh blackcurrant and exotic, juicy mango notes give way to a gentle smokiness that slowly begins to emerge and create a full and indulgent experience. Nutmeg and gingerbread give a warm, animated character before relaxing and making way for the smokiness. All these rich, exotic flavors combine to create the hallmark of Johnnie Walker blends in one sensationally long, lingering gold finish.
*Please note that prices shown exclude taxes. Taxes and container deposit, if applicable, will be applied at checkout. The price disclaimer below may not be correct.*