Johnnie Walker Red Label Scotch Blended
Scotch, 750 mL
| | |
| --- | --- |
| Country : | United Kingdom |
| Region : | Scotland |
| Producer : | John Walker & Sons |
| Website : | www.johnniewalker.com |
| Alcohol : | 40 % |
| Grape variety(ies) : | Scotland Blend |
| Style : | Subtle & Smoky |
| Color : | Amber |
| Container : | Clear Glass Container |
| Closure : | Metal Screw Cap |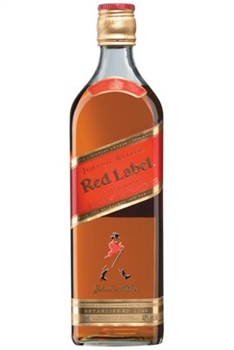 Tasting note
The distinctive and exuberant flavour of this dram was developed to be suitable for mixing in cocktails generations ago and is still a go-to for bartenders globally. Rich and vibrant aromatics with hints of clove and butterscotch; the palate initially sweet and spicy, develops a robust, smoky character with a warm finish.
Aromas of dry grain emerge with notes of holiday spice and dark caramel. Brown sugar taste and medium-bodied texture. The mid-palate tastes of toasted walnut, pine-nut and ripe red fruit. Long finish.
Direct and fresh aromas, hints of vanilla and a powerful smoky malt. Smooth and quite sweet with lots of smoky malt balanced by sweeter vanilla edges and hints of spice. Full and appetizing with a memorable distinctive burst of spicy warmth.
Bold, fearless and fiery with a smoky finish. A versatile, vibrant whisky. It' s perfect for mixing a quality not many other whiskies can boast without losing character.