Laphroaig Triple Wood Islay Scotch Single Malt
Scotch, 750 mL
| | |
| --- | --- |
| Country : | United Kingdom |
| Region : | Scotland |
| Subregion : | Islay |
| Producer : | D. Johnston & Co. |
| Alcohol : | 48 % |
| Grape variety(ies) : | Scotland Other |
| Color : | Golden |
| Classification : | Double vieillissement |
| Container : | Coloured Glass Container |
| Closure : | Cork |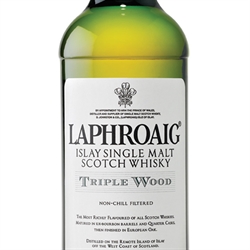 Tasting note
Light amber colour; aromas of dried fruit, sweet vanilla, cereal, brine with smoky/hickory notes; full bodied, sweet, with a creamy/rounded palate, flavours of peat smoke/ash, toasted nut, dried fruit and spice; long pungent but ultimately sweet spiced fruit finish.
With no water, a large initial burst of peat belies the slight lack on the nose but is gentled on the tongue by the creamier flavours of vanilla and fruit with just a suggestion of sherry sweetness. With a trace of water the peat reek is gentled, allowing the more complex flavours of citrus fruits and spices to come through. A slight tang comes from the European Oak balancing the creamier American White Oak.
The intial flavour is quite sweet with a gentle mixture of sweet raisins and creamy apricots, with just a trace of the dry peat smoke at the back. The smoother nutty flavours combine all these flavours into one smooth, syrupy whole.