Malibu
Rum, 750 mL
| | |
| --- | --- |
| Country : | Canada |
| Region : | Ontario |
| Producer : | Twelve Islands Shipping Co |
| Website : | www.hiramwalker.com |
| Alcohol : | 21 % |
| Style : | Vibrant & Sweet |
| Container : | Clear Glass Container |
| Closure : | Metal Screw Cap |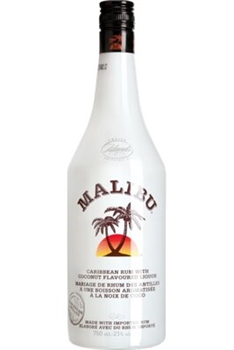 Tasting note
Clear, water-like in appearance; sweet coconut aromas and flavours.
Clear and colourless. Sweet coconut aroma and flavour in a rum base.
This premium Canadian flavoured rum is clear and colourless, with a sweet coconut aroma. It has a light-bodied distinct coconut flavour with a sweet finish. Enjoy Malibu Coconut mixed with fruit juices or sodas.
Nothing beats an original, and Malibu is not only an original, it is the world's best-selling Caribbean rum with natural coconut flavor. The taste of Malibu is Barbados in a bottle— smooth, fresh coconut flavour with a sweet finish.
Malibu Coconut Rum is made in Barbados from quality ingredients, offering natural tasting coconut flavours. It's delicious on ice, mixed with soda or as an ingredient in a fruity cocktail.