Smirnoff Triple Distillation
Vodka, 200 mL
| | |
| --- | --- |
| Country : | Canada |
| Producer : | Sté Pierre Smirnoff Fils |
| Website : | www.diageo.com |
| Alcohol : | 40 % |
| Style : | Clean & Classic |
| Container : | Bottle Pet-4 (recycling Code 1) |
| Closure : | Plastic Screw Cap |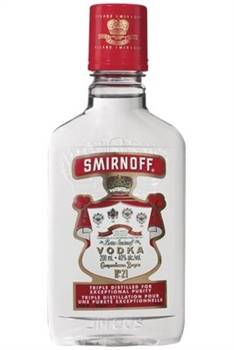 Tasting note
Founded in 1864 by Pyotr Arsenievich Smirnov, what we now call Smirnoff was the first vodka to use charcoal filtration in the distillation process. This charcoal filtration produces a spirit that is ideal for mixing because of its smooth and clean palate; perfect in a Moscow Mule.
Distilled from the finest grains, Smirnoff Premium Vodka is triple distilled for exceptional smoothness and ten times filtered through birch tree charcoal for supreme clarity.
Triple distilled, ten times filtered over eight hours, Smirnoff No. 21 Vodka is a classic Russian style vodka with a clean taste, light fragrance and cool finish.