The Macallan 12 Ans Highland Scotch Single Malt
Scotch, 750 mL
| | |
| --- | --- |
| Country : | United Kingdom |
| Region : | Scotland |
| Subregion : | Highlands |
| Producer : | The Macallan Distillers Ltd |
| Website : | www.themacallan.com |
| Alcohol : | 40 % |
| Color : | Amber |
| Container : | Clear Glass Container |
| Closure : | Cork |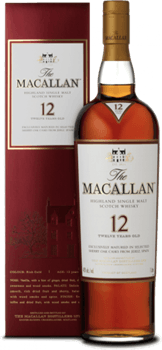 Tasting note
Full-bodied sherried Speyside. An aroma of honeyed sherry, smoke and light fruit. On the palate is a balance of sherry, caramel malt, delicate fruit and smoke.
The nose is quite crisp and sweet. There are notes of sultanas and fresh apple blossom. There is a defined floral note with a beautiful sherry, calvados emerges with a tropical fruit note and golden syrup. The palate is of medium-body and quite firm. There are notes of hot pastries and marmalade, sultanas and peels with a developing sweetness from the barley sugar. The finish is of good length with a solid oaked note.
The Macallan 12 Year Old is exclusively matured for a minimum of 12 years in Spanish oak casks, handcrafted and sherry seasoned in Jerez, Spain. It is rich in colour with dried fruits, spice and chocolate orange flavours. "Faultless, intense sherry, light enough to allow the fabulous apple and cinnamon to blend in with the greengage and grape...a whisky whose quality has hit the stratosphere since I last tasted it..." Jim Murray's Whisky Bible 2012, 95.5 Points Featured in the 2012 Share The Season Holiday Gift Ideas booklet.