White Owl
Whisky, 750 mL
| | |
| --- | --- |
| Country : | Canada |
| Region : | Alberta |
| Producer : | Highwood Distillers |
| Website : | www.highwood-distillers.com |
| Alcohol : | 40 % |
| Grape variety(ies) : | Canada |
| Style : | Subtle & Spicy |
| Color : | Amber |
| Container : | Clear Glass Container |
| Closure : | Cork |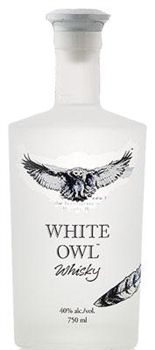 Tasting note
Aged in charred oak Bourbon barrels then filtered to produce a clean and clear, water white whisky. The nose offers soft aromas of citrus, anise, and butterscotch; the palate is soft and round with subtle caramel and light spiciness on a long and flavourful finish.
A soft whisky accented by a hint of licorice and mild oak flavours.
A delicious Rye Whisky through and through, just without the brown. Distilled from no less than 10 year old aged Rye Whisky, it has all the taste and smoothness of a premium Rye Whisky, but with a massive extra dose of style.
World's first clear Rye Whisky, the only spirit that is aged and filtered. The oak flavours are mild and there are no harsh tannins or unbridled spices.
As featured in Taste Magazine, Spring 2013. This much-awarded, crystal clear Alberta rye whisky is made from a blend of 10-year-old wheat whiskies and younger rye whiskies. Triple charcoal-filtered and oak-aged, it's smooth, mellow and slightly sweet with butterscotch, citrus and spice notes. It is a great sipping whisky or use in cocktails in place of rum or vodka.