Wisers Special Blend
Whisky, 375 mL
| | |
| --- | --- |
| Country : | Canada |
| Producer : | Corby Distilleries Ltd. |
| Website : | www.hiramwalker.com |
| Alcohol : | 40 % |
| Grape variety(ies) : | Canada |
| Style : | Subtle & Sweet |
| Container : | Plastic |
| Closure : | Screw-top |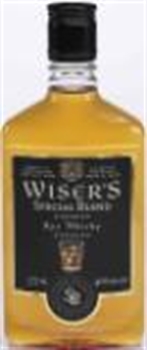 Tasting note
Hand-made using traditional methods and ingredients this golden amber whisky is fragrant with honey, vanilla and cloves on the nose; smooth and clean on the palate with a hint of spice on the finish, it's a well-balanced introduction to the Wiser's line.
A smooth, mellow Canadian whisky that is a deep gold colour and suggests hints of spice, vanilla and oak. Its subtle sweetness delivers a full finish that is clean and compact.
Medium amber in colour, Wisers Special Blend has a fresh nose,with hints of spice, wood and vanilla – a good balance. The smooth palate offers a subtle sweetness with mild, mellow oak and a clean and compact finish.
Colour: Medium Amber. Nose: Fresh wood with hints of spice and vanilla. Body: Smooth. Palate: Sublte sweetness with mild mellow oak. Finish: Clean and compact.
*Please note that prices shown exclude taxes. Taxes and container deposit, if applicable, will be applied at checkout. The price disclaimer below may not be correct.*