Cabernet-Sauvignon 120 Santa Rita Valle Del Rapel
Red Wine, 750 mL
| | |
| --- | --- |
| Country : | Chile |
| Producer : | Vina Santa Rita SA (Santiago) |
| Alcohol : | 12.8 % |
| Grape variety(ies) : | Cabernet-Sauvignon |
| Style : | Full-bodied & Smooth |
| Color : | Red |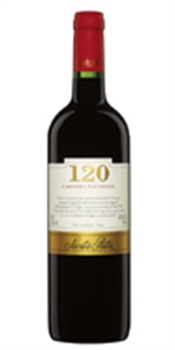 Tasting note
Deep ruby purple color; aromas and flavours of coffee, chocolate, dark fruit and blueberry and cassis; dry, full bodied, with moderate tannin and acidity; long finish.
This dry and purplish red coloured red showcases a simple nose releasing spicy, fruity and vegetal scents. You will be charmed with this medium-bodied wine revealing a broad texture, fleshy tannins and a medium finish.
Fruity aroma dominated by berries, cloves and vanilla on the nose. Juicy ripe fruit, plums, earth notes and leather on the palate.
Our ruby red 120 Cabernet Sauvignon is elegant and balanced. Its fruity aroma is dominated by berries, cloves and vanilla while on the palate it delivers a fine concentration of flavour, suggesting juicy ripe fruit, plums, earth notes and leather