Cono Sur Carmenère / Cabernet-Sauvignon
Red Wine, 750 mL
Country :
Chile
Region :
Valle Central
Subregion :
Colchagua Valley
Producer :

Vina Cono Sur SA

Website :
www.conosur.com
Alcohol :
14 %
Designation of origin :
Valle del Colchagua
Grape variety(ies) :
Cabernet sauvignon 45%
Carmenere 40%
Syrah 15%
Color :
Red
Container :
Coloured Glass Container
Closure :
Cork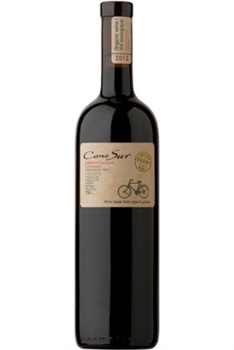 Tasting note
This dry and purplish red coloured red showcases a complex nose releasing empyreumatic, spicy, fruity and vegetal scents. You will be charmed with this full-bodied wine revealing a broad texture, fleshy tannins and a long finish.
This earthy wine offers a robust and very expressive nose, with notes of strawberries, berries and plum. In mouth this wine is absolutely concentrated. Black and red fruits are in complete harmony with soft tannins. It displays an integrated character, with slight final touches of toasted wood.
This Cabernet Sauvignon Carmenere is made from grapes grown organically. This reddish purple wine from Colchagua Valley offers an expressive and very fruity to the nose, with notes of plums, berries, and dry fruits. In the mouth, this juicy blend is a delightful concentration of red and black fruits, which are in complete harmony with soft tannins. A wine of integrated character, that culminates in a chocolate finish with underlying woody and toasty hints.
This is one of the province's top selling Chilean wines and is a perfect paring for mixed barbecue grill, red meats, poultry, veggie kabobs and roasted peppers.