Folie À Deux Ménage À Trois
White Wine, 750 mL
| | |
| --- | --- |
| Country : | United States |
| Region : | California |
| Producer : | Folie à Deux Winery |
| Website : | www.menageatroiswines.com |
| Alcohol : | 13.5 % |
| Grape variety(ies) : | Blend |
| Style : | Off-dry & Fruity |
| Color : | White |
| Container : | Clear Glass Container |
| Closure : | Metal Screw Cap |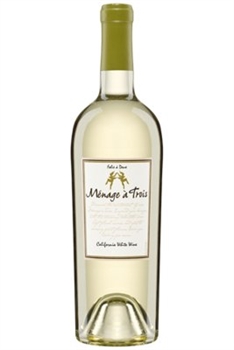 Tasting note
Lemon yellow colour; citrusy, green apple and pear aromas and flavours with delicate floral and tropical fruit notes; off-dry and fruity.
This medium-dry and greenish yellow coloured white showcases a simple nose releasing spicy, floral and fruity scents. You will be charmed with this medium-bodied wine revealing a broad texture and a medium finish.
A fruity wine with citrus and tropic fruit flavours and crisp acidity.
Ménage à Trois white is a trip to the islands without the worry of sunburn or bugs. It's undeniably fruity and unabashedly easy. It's meant to be quaffed, not analyzed. The White blend brings together citrus and tropical fruit flavors with crisp acidity. Dare we say it's refreshing? With food or without, alone or with two companions, this is one of the most exhilarating experiences imaginable.