Masi Tupungato Corbec
Red Wine, 750 mL
Country :
Argentina
Region :
Mendoza
Subregion :
La Arboleda
Producer :

Masi Agricola SPA

Website :
masi.it
Alcohol :
15 %
Grape variety(ies) :
Corvina 70%
Malbec 30%
Color :
Red
Container :
Coloured Glass Container
Closure :
Cork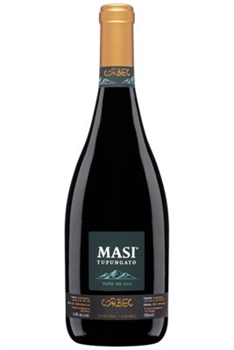 Tasting note
This dry and ruby coloured red showcases a complex nose releasing balsamic, woody, empyreumatic, spicy, floral and fruity scents. You will be charmed with this full-bodied wine revealing a full-bodied texture, fleshy tannins and a long finish.
Deep and opaque red with violet tinges to the edges. Intense berry fruit and myrtle bouquet with balsamic tinges and hints of mint and liquorice. Full-bodied on the palate and well balanced with good acidity and soft, firm tannins. Long and intense finish with the same balsamic and spicy notes first seen on the nose coming through again.
Opaque red in with youthful violet edges. The nose has intense aromas of fruits of the forest and fruit conserve with hints of mint and cinnamon. Firm but melting on the palate with soft, ripe fruit flavors that have the appearance of sweetness. Plums and cooked cherries with attractive vanilla hints, leading to a long bitter chocolate finish.
The elegance of the Corvina grape, with its tastes of super-ripe cherries and velvety texture, is combined with the exuberant virility and tannins of the Malbec grape. 92 Points, Descorchados 2014