Père Anselme La Fiole Du Pape
Red Wine, 750 mL
Country :
France
Region :
Vallée du Rhône
Subregion :
Rhône méridional
Producer :

Brotte SA

Alcohol :
14.5 %
Designation of origin :
Châteauneuf-du-Pape
Grape variety(ies) :
Grenache
Syrah
Style :
Full-bodied & Smooth
Color :
Red
Container :
Coloured Glass Container
Closure :
Cork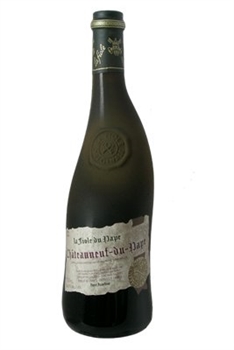 Tasting note
Garnet ruby red colour; fresh red berries, cherry and oak spice on the nose with ; dry, medium to full-bodied with cherry and oak flavour, great mouth feel, well balanced with medium length finish
This dry, full-bodied and fruity red displays a complex and medium nose. On the palate, its refreshing acidity, fleshy tannins, and broad texture precede a medium finish.
Brilliant ruby color with tile tints, showing a good maturity. Complex, warm and pleasant nose combining aromas of dry fruits, wood, truffle, venison, spices, all in a perfect harmony. In the mouth, this wine surprises by its functuousity at first and its powerful tannins at the end.
As Featured in TASTE Magazine, Fall 2012. The complex bouquet of this full-bodied red is warm and inviting, harmoniously combining aromas of dried fruit, wood, truffles, venison and spice. On the palate, it is surprisingly soft on the first sip, but strong tannins lead to a powerful finish.