Ruffino Modus
Red Wine, 750 mL
Country :
Italy
Region :
Tuscany
Producer :

Ruffino SRL

Website :
www.ruffino.com
Alcohol :
13.5 %
Designation of origin :
Toscana
Grape variety(ies) :
Sangiovese 50%
Cabernet sauvignon 25%
Merlot 25%
Style :
Medium-bodied & Fruity
Color :
Red
Container :
Coloured Glass Container
Closure :
Cork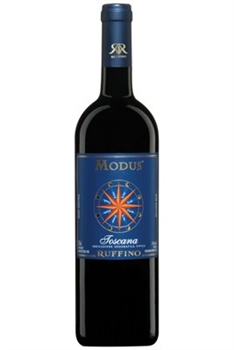 Tasting note
A silky and refined red with currant, berry, mineral and dried flower aromas and flavors. Full-bodied, flavorful and delicious. A blend of sangiovese, cabernet sauvignon and merlot. Drinkable now but better in 2017. Score - 94. (James Suckling, jamessuckling.com, Aug. 5, 2015)
This dry ruby coloured wine features medium animal, empyreumatic, floral and fruity scents and offers a broad texture as well as fleshy tannins.
Tasting profile: At the palate it is full-bodied and harmonious and characterized by the finesse of its silky tannins. The taste is exalted by a remarkable pleasantness and freshness and a texture in which each varietal adds its own distinctive trait. The finish is incredibly persistent, with an aftertaste of black berry fruit and cocoa.
Delightful hints of tobacco and spice lead to inviting aromas of cherries, strawberries, and plums. This full-bodied wine is rich with refined, silky tannins and a long finish of vanilla and red berry essence that is particularly pleasurable. Modus' structure on the palate promises that this wine can be aged for many years.