Ruffino Orvieto Classico
White Wine, 750 mL
| | |
| --- | --- |
| Country : | Italy |
| Region : | Umbria |
| Producer : | Ruffino SRL |
| Website : | www.ruffino.com |
| Alcohol : | 12 % |
| Designation of origin : | Orvieto |
| Grape variety(ies) : | Blend |
| Style : | Light & Crisp |
| Color : | White |
| Classification : | Classico |
| Container : | Clear Glass Container |
| Closure : | Metal Screw Cap |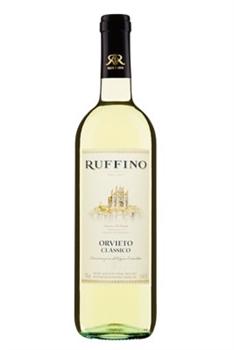 Tasting note
Pale straw colour; citrus and apple fruit aromas and flavours; light-bodied, clean and crisp a hint of almond in the finish
This medium-dry and greenish yellow coloured white showcases a simple nose releasing floral and fruity scents. You will be charmed with this light-bodied wine revealing a slender texture and a short finish.
slight nutty aroma, dry, crisp and fresh with earthy flavours and a suggestion of pear, fading to a crisp and balanced finish
Straw yellow in color; bouquet is fruity and floral with notes of meadow flowers, clover, green apples and greengage plums; palate is refreshing but smooth, thanks to the balance between the wine's structure, acidity and fruity notes; finish is long and fragrant, reminiscent of citrus blossoms.
Try pairing this light white wine with chilled seafood at the beginning of the meal. The grapes are sourced from chalky/limestone soils in Umbria.