Tignanello
Red Wine, 750 mL
Country :
Italy
Region :
Tuscany
Producer :

Marchesi Antinori SRL

Website :
www.antinori.it/
Alcohol :
13.5 %
Designation of origin :
Toscana
Grape variety(ies) :
Sangiovese 80%
Cabernet sauvignon 20%
Style :
Full-bodied & Firm
Color :
Red
Container :
Coloured Glass Container
Closure :
Cork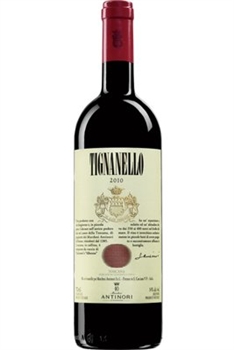 Tasting note
A favourite of collectors, 'Tig' was one of the original Super Tuscans that revitalized Tuscany's wines in the 1970s. A rich, spicy blend of Sangiovese, Cabernet Sauvignon and Cabernet Franc. Cellar up to 12 years or savour tonight with roasted lamb.
This dry cherry-red coloured wine features medium woody, empyreumatic, spicy, fruity and vegetal scents and offers a broad texture as well as firm tannins.
Intense ruby red colour with light garnet hues. Complex and nicely harmonious aromas of tobacco, curry powder and blackberry and blackcurrant jam. A mouthfilling deliquescent sensation on the silky palate enhances the sweetness. A light hint of sweet, nicely rounded tannins in the finish make the wine more persistent.
An intense ruby red in color, the aromas of the wine are characterized by a powerful varietal expressiveness, with ample notes of red fruit, raspberries, and liquorice. On the palate, the wine, still very young, immediately shows firm tannins with much polish and finesse as well, along with a balancing, tonic acidity and savory mineral notes which add length and persistence to the finish and aftertaste.