Torres Vina Esmeralda
White Wine, 750 mL
Country :
Spain
Region :
Cataluna
Producer :

Miguel Torres SA

Website :
www.migueltorreschile.com
Alcohol :
11.5 %
Designation of origin :
Catalunya
Grape variety(ies) :
Moscatel
Gewurztraminer
Style :
Aromatic & Flavourful
Color :
White
Container :
Coloured Glass Container
Closure :
Metal Screw Cap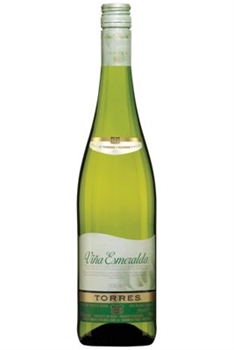 Tasting note
The 2012 reminds of the delicious 2006. The Upper Penedès white is the usual 85/15 mix of moscatel/gewürztraminer but the aromas are just that much brighter with an intense spicy, floral, lemon oil (Alsace) character with some mineral notes too. The flavours match the nose with green apple, lemon lime and litchi fruit. Fresh delicate, juicy, ripe and all under screwcap. Food friendly and a versatile sushi wine. Score - 88. (Anthony Gismondi, gismondionwine.com, Aug. 26, 2013)
This medium-dry greenish yellow coloured wine features intense floral and fruity scents and offers a slender texture.
A voluptuous, exotically perfumed nose, with deliciously well-defined primary aromas some floral notes, roses, lilies, complemented by secondary aromas derived from the wine's controlled fermentation. Silky and sappy on the palate.
As featured in Taste Magazine, Spring 2013. Made from an aromatic one-two punch of Muscat and Gewürztraminer, this exuberant Catalan white is off-dry and amazingly fragrant with rose and tropical fruit aromas. The palate exudes fresh tropical fruits and is very easy to get into.