Hpnotiq
Liqueur, 750 mL
| | |
| --- | --- |
| Pays : | France |
| Producteur : | Heaven Hill Distilleries |
| Site web : | www.heaven-hill.com/ |
| Alcool : | 17 % |
| Style : | Vive Et Fruitée |
| Couleur : | Bleu(e) |
| Contenant : | Contenant De Verre Coloré |
| Bouchon : | Liège |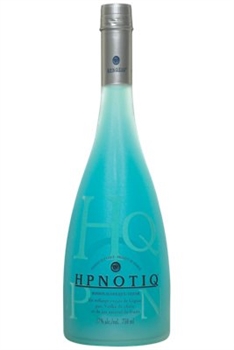 Note de dégustation
Robe turquoise d'intensité moyenne, presque opaque. Arômes prononcés de pamplemousse, de pêche, de fruit de la Passion et de cognac léger. De douceur moyenne, avec des saveurs de fruits tropicaux et un petit goût de caramel qui mènent à une finale longue et rafraîchissante.
Note de dégustation (anglais)
A blend of super premium French vodka, pure cognac and natural tropical fruit juices.
Hpnotiq delights all your senses. Its eye-catching aqua blue color and refreshing blend of natural exotic fruit juices and premium spirits make any occasion more fabulous. Always serve chilled ~ on the rocks, straight, with vodka, rum, champagne, or added to martinis, margaritas, shooters or your favorite cocktail for a unique twist.