Mike's Hard Lemonade
Cooler, 6 x 355 mL
| | |
| --- | --- |
| Pays : | Canada |
| Région : | Ontario |
| Producteur : | Mike's Hard Lemonade |
| Site web : | www.mikeshardlemonade.ca |
| Alcool : | 5 % |
| Cépage(s) : | Demi-doux |
| Style : | Vif Et Acidulé |
| Couleur : | Jaune |
| Contenant : | Contenant Aluminium |
| Bouchon : | Languette |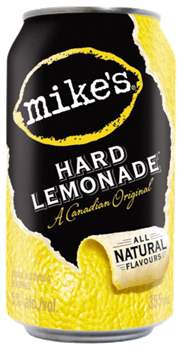 Note de dégustation
Robe citron-lime pâle, légère effervescence; arômes et saveurs acidulés et bien équilibrés de limonade.
Note de dégustation (anglais)
A slightly carbonated cooler with natural lemon flavours and a clean, crisp, dry finish.
Nicely balanced, tart lemonade aromas and flavours with vodka warmth.
Made with all natural flavours and real vodka, mike's® Hard Lemonade has a smooth and refreshing taste.
Mike's Hard Lemonade is an enticing pale lemon-lime in colour. With its slight spritz and tart lemonade aromas and flavours, it's a nicely balanced summer refreshment.