Smirnoff Ice 12P
Cooler, 330 mL
| | |
| --- | --- |
| Pays : | Canada |
| Producteur : | U.D.V. Canada Inc |
| Site web : | www.smirnoff.com |
| Alcool : | 5 % |
| Cépage(s) : | Demi-doux |
| Style : | Vif Et Acidulé |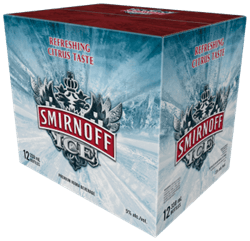 Note de dégustation
Robe d'un blanc trouble; nez aux parfums d'agrumes, de limonade et de lime avec des notes de pamplemousse; bouche vive aux saveurs rafraîchissantes de pamplemousse et d'autres agrumes; finale énergique.
Note de dégustation (anglais)
A vodka-based cooler full of citrus, lemonade, lime and grapefruit notes on the nose. Grapefruit and citrus flavours on the palate.
The original Smirnoff cooler has a lemonade base but finishes dry. Something that will please both beer and fruity drink lovers alike!
A blend of premium Smirnoff Vodka with the classic taste of lemon flavour.