Sortilege
Whisky, 750 mL
| | |
| --- | --- |
| Pays : | Canada |
| Région : | Québec |
| Producteur : | Mondia Alliance |
| Site web : | www.futailles.com |
| Alcool : | 30 % |
| Style : | Chaleureuse Et Sucrée |
| Couleur : | Ambré |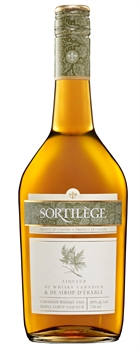 Note de dégustation
Robe or; arômes d'érable, de caramel anglais et de caramel; saveurs riches et douces de sirop d'érable et de caramel anglais.
Note de dégustation (anglais)
A unique blend of Canadian Whiskey and Maple Syrup.
Sortilege is a unique blend of Canadian Whisky and pure Maple Syrup. Created from the land, Sortilege follows a traditional recipe that strikes the perfect balance between the strength of Canadian Whisky and the rich, golden flavour of pure Maple Syrup. The result is a remarkably fine Liqueur that is truly Canadian.
*Please note that prices shown exclude taxes. Taxes and container deposit, if applicable, will be applied at checkout. The price disclaimer below may not be correct.*