1800 Silver
Téquila, 750 mL
| | |
| --- | --- |
| Pays : | Mexique |
| Région : | Jalisco |
| Producteur : | The Beckmann Family |
| Site web : | www.proximospirits.com |
| Alcool : | 40 % |
| Appellation : | Tequila |
| Style : | Vive Et Fruitée |
| Classification : | Silver (blanco ou plata) |
| Contenant : | Contenant De Verre Clair |
| Bouchon : | Plastique Vissé |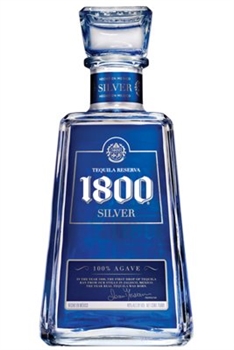 Historique des prix
Note de dégustation
Robe limpide comme de l'eau; le nez dévoile des arômes distincts de fumée et d'épices avec des notes de fines herbes broyées et de cèdre; bouche chaleureuse de caractère sec avec saveurs de cèdre, de fumée et de poire.
Note de dégustation (anglais)
Tangy sweetness with a hint of agave on the nose and palate.
A Buoyant entry leads to a round dryish medium bodied palate with a mild fruit preserves on toast, spice, and white pepper flavors.
A smooth and supple entry leads to a round medium-bodied palate with sweet prune, roasted pepper and delicate spice flavours. Wraps up with a long sweet fruit finish.
*Please note that prices shown exclude taxes. Taxes and container deposit, if applicable, will be applied at checkout. The price disclaimer below may not be correct.*