Aberfeldy 12
Scotch, 750 mL
| | |
| --- | --- |
| Pays : | Royaume-Uni |
| Région : | Écosse |
| Sous région : | Highlands |
| Producteur : | Aberfeldy 21 |
| Site web : | www.dewars.com |
| Alcool : | 40 % |
| Cépage(s) : | Whisky écossais de malt |
| Style : | Léger Et Fruité |
| Couleur : | Ambré(e) |
| Classification : | Mention d'âge |
| Contenant : | Contenant De Verre Clair |
| Bouchon : | Liège Avec Tête De Plastique |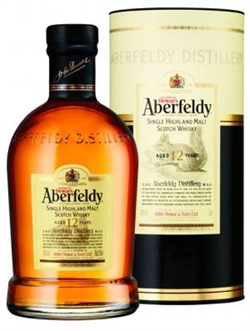 Note de dégustation
Robe ambre moyen; arômes de potpourri, de raisin sec, de miel et de vanille; la bouche développe des saveurs de pomme, de caramel écossais chaud et d'épices à gâteau avec une note persistante de vanille en finale.
Note de dégustation (anglais)
Warm golden colour. Rich, perfumed, aroma, rounded and full with heather, honey, notes of sweet pineapple, butter toffee, toast, cereal and vanilla. Great depth, sweet golden syrup and honey followed by spices and orange peel. Medium to full-bodied.
The distinct character of the Aberfeldy 12 is the result of uniting the Highland's finest natural resources. Created with fresh spring water from the nearby Pitilie Burn, they are truly "Scotch" Scotches, as only Scottish Optic Barley is used. Color: Full, gold yellow Nose: Floral, light smoke, nutty, orange zest Palate: Fresh, hint of sweetness, honey, oak, citrus Body: Full bodied Finish: Long, subtle vanilla, soft oily, subtle sweetness
Aberfeldy has a richly textured, honeyed nose with sweet creamy intensity, full of flavours of dried fruits, floral heather notes, creamy vanilla and hints of toasted coconut in a full-bodied palate, with a spicy, woody finish.