Aberlour 12 Ans Highland Scotch Single Malt
Scotch, 750 mL
| | |
| --- | --- |
| Pays : | Royaume-Uni |
| Région : | Écosse |
| Sous région : | Highlands |
| Producteur : | Aberlour Glenlivet Distillery Co. Ltd. |
| Site web : | www.aberlour.com/ |
| Alcool : | 40 % |
| Cépage(s) : | Whisky écossais de malt |
| Style : | Mi-corsé Et Fruité |
| Couleur : | Ambré(e) |
| Contenant : | Contenant De Verre Clair |
| Bouchon : | Liège |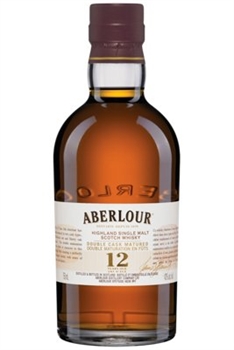 Historique des prix
Note de dégustation
Robe ambre moyen; bouche persistante et intense aux saveurs d'abricot, de caramel, d'épices, de gingembre, de cannelle, de vanille et de pain grillé, menant à une longue finale chaleureuse.
Note de dégustation (anglais)
Golden amber with hints of ruby red. Very soft,and rounded with fruity notes of red apples. Sherried character and fruity aromas, balanced with a rich chocolate, toffee, cinnamon, and ginger spiciness. Warming and lingering. Sweet and very slightly spicy.
*Please note that prices shown exclude taxes. Taxes and container deposit, if applicable, will be applied at checkout. The price disclaimer below may not be correct.*