Absolut
Vodka, 1,14 L
| | |
| --- | --- |
| Pays : | Suède |
| Producteur : | The Absolut Company AB |
| Site web : | www.absolut.com |
| Alcool : | 40 % |
| Style : | Nette Et Classique |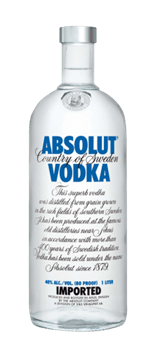 Note de dégustation
.
Note de dégustation (anglais)
Smooth and light-bodied.
Absolut Vodka is very clear with aromas of soft grains. Its palate is medium-bodies and warm with a hint of softness leading to a clear and soft finish.
Since 1879, ABSOLUT vodka has been distilled from grain grown in Southern Sweden in a process steeped in more than 400 years of Swedish tradition. A truly global brand, ABSOLUT is now found in over 100 countries worldwide.
*Please note that prices shown exclude taxes. Taxes and container deposit, if applicable, will be applied at checkout. The price disclaimer below may not be correct.*