Amarula
Liqueur, 750 mL
| | |
| --- | --- |
| Pays : | Afrique du Sud |
| Producteur : | Southern Liquor Co. |
| Site web : | www.amarula.com |
| Alcool : | 17 % |
| Cépage(s) : | Bière - corsée |
| Style : | Veloutée Et Crémeuse |
| Couleur : | Beige |
| Contenant : | Contenant De Verre Coloré |
| Bouchon : | Métal Vissé |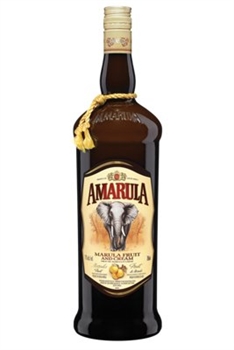 Note de dégustation
Robe d'un brun pâle crémeux; arômes fruités; bouche crémeuse et veloutée aux saveurs fruitées légèrement noisetées.
Note de dégustation (anglais)
Amarula presents a medium fruity aroma, with a thick body. The smooth, creamy texture has fruity, slightly nutty flavours and a smooth finish.
Amarula is a premium cream liqueur based on the spirit derived from the fruit of the South African Marula tree and the finest dairy cream. This delicious liqueur is world renowned for its delectably rich, soft and smooth texture. Amarula can be enjoyed over ice, as the perfect complement to coffee or hot chocolate, and in a wide range of cocktails.
Amarula is made from the fruit of the marula tree in a process similar to winemaking, then distilled and blended with fresh dairy cream. Light caramel in colour, it has a medium-weight body and a subtle, cocoaenriched bouquet. it washes the palate with rich flavours of chocolate, mocha, vanilla, caramel and butterscotch.