Aperol
Liqueur, 750 mL
| | |
| --- | --- |
| Pays : | Italie |
| Producteur : | Davide Campari |
| Site web : | www.campari.com |
| Alcool : | 11 % |
| Cépage(s) : | Apéritif |
| Style : | Chaleureuse Et Herbacée |
| Couleur : | Orange |
| Contenant : | Contenant De Verre Clair |
| Bouchon : | Métal Vissé |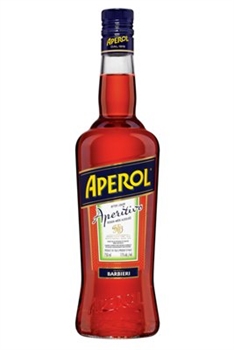 Note de dégustation
Éclatante robe rouge orangé; arômes intenses de zeste de tangerine relevés de notes herbacées et épicées; bouche de corpulence moyenne et souple aux douces nuances de tangerine équilibrées par une pointe d'amertume impartie par les herbes; finale longue aux tonalités épicées.
Note de dégustation (anglais)
Italy's #1 Selling Spirit. Aperol is an exotic infusion of sweet orange peel, hints of mandarin and bitter orange and an array of aromatic herbs and spices. Aperol's low alcohol content of 11% makes it a popular choice for any occasion. It's refreshing zesty flavour and superb mixability make Aperol the perfect choice for exciting cocktails like the signature Aperol Spritz.
Aperol is the perfect aperitif. Bring orange in color, it has a unique taste, thanks to the secret recipe, which has never been change. Infusions of selected ingredients include bitter and sweet oranges, and many other herbs and roots in perfect proportions. Aperol's strength is in it's low-alcohol content of only 11%.
As featured in Taste Magazine, Spring 2013. Based on an infusion of roots, herbs and oranges, Aperol is an aperitivo like its cousin, Campari. It has less alcohol and is sweeter and less bitter. Its scintillating orange colour perks up any punch, or enjoy in an Aperol Spritz with Prosecco and soda.