Appleton Estate V/X
Rhum, 1,14 L
| | |
| --- | --- |
| Pays : | Jamaïque |
| Producteur : | J. Wray & Nephew Limited |
| Site web : | www.appletonestate.com |
| Alcool : | 40 % |
| Cépage(s) : | Rhum ambré |
| Style : | Mi-corsé Et Fruité |
| Couleur : | Ambré(e) |
| Contenant : | Contenant De Verre Clair |
| Bouchon : | Métal Vissé |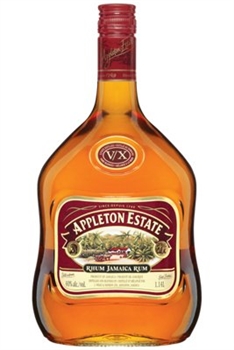 Note de dégustation
.
Note de dégustation (anglais)
Imported rum from Jamaica. A blend of several types of rum, all aged between five and ten years. Deep, golden amber colour. Aromas of dried fruits, vanilla, brown sugar, molasses and light spice. Full-bodied, medium-sweet with notes of chestnuts, pecans, bananas, butterscotch and brown sugar. Soft, creamy with a mellow finish.
Harvest gold/honey colour with remarkable clarity and brilliance. Subtle scents of brown sugar, light spice, dried fruits and orange peel. Rich flavors of toasted honey wheat bread and refined sugar. Finishes as serenely as it started.
Appleton Estate V/X Rum is the first member of the Appleton Estate Range. This particular blend of rum is made up of 15 select aged rums that add the most amazing and unique characteristics to classic cocktails.