Bacardi Superior
Rhum, 750 mL
| | |
| --- | --- |
| Pays : | Canada |
| Producteur : | Bacardi Canada Inc. |
| Site web : | www.bacardi.com |
| Alcool : | 40 % |
| Cépage(s) : | Rhum blanc |
| Style : | Léger Et Doux |
| Contenant : | Contenant De Verre Clair |
| Bouchon : | Métal Vissé |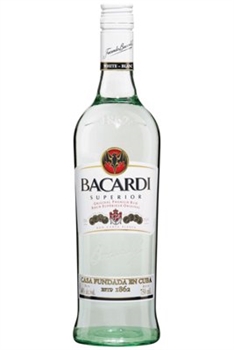 Note de dégustation
Robe limpide comme de l'eau; arômes doux et subtils aux délicats parfums d'agrumes, de vanille et d'herbes sur un fond légèrement alcoolisé; bouche légère à mi-corsée de caractère sec et délicatement savoureuse aux tonalités de vanille, de poivre et d'épices; la rondeur en milieu de bouche mène à une finale nette de caractère sec.
Note de dégustation (anglais)
Smooth in taste. Dry, with vanilla and almond aromas. A light-bodied rum aged one to two years in oak barrels, then blended and charcoal filtered.
Bacardi Superior rum is the original, mixable, light-bodied rum, aged between one and two years in carefully selected oak barrels. After ageing, the rums is blended and passed through a second charcoal filtration to achieve maximum clarity and characteristic Bacardi smoothness.
Bacardi Superior is a light white rum with impressions of vanilla and fresh apricot and subtle notes of fruits and nuts. It has a mild, soft aromatic taste with impressions of crystallized fruit, marzipan and vanilla. Its finish is dry, crisp and very clean.
Clear with hints of citrus, vanilla and herbal elements over a spirited foundation, this rum is dry on the palate and light- to medium-bodied and with a dry, clean finish.