Baileys L'originale
Liqueur, 1,14 L
| | |
| --- | --- |
| Pays : | Irlande |
| Producteur : | R. & A. Bailey & Co. |
| Site web : | www.baileys.com |
| Alcool : | 17 % |
| Style : | Veloutée Et Crémeuse |
| Couleur : | Beige |
| Contenant : | Contenant De Verre Coloré |
| Bouchon : | Métal Vissé |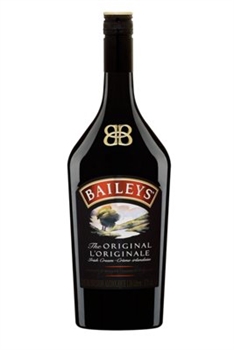 Note de dégustation
Robe café-crème; arômes de café frais, de noisette et de chocolat; doux, crémeux et épais, avec des saveurs de chocolat blanc, de vanille et de noix légèrement grillées, équilibrées par une agréable note de whisky, finale nette et persistante.
Note de dégustation (anglais)
The classic, the original. Irish whiskey, cream and fine spirits woven together to create a perfect blend of flavours.
Coffee & cream colour; aromas of fresh coffee, hazelnut and chocolate; sweet, creamy and thick, with flavours of lightly toasted nut, white chocolate and vanilla; flavours well balanced by a smooth whisky note for clean, lingering finish.
Baileys is a natural marriage of fresh Irish dairy cream, sweet vanilla, dark cocoa, sugar, the finest spirit and Irish whiskey.