Bombay Sapphire
Dry gin, 375 mL
| | |
| --- | --- |
| Pays : | Royaume-Uni |
| Région : | Angleterre |
| Producteur : | Bombay Spirits Company |
| Site web : | www.bombaysapphire.com |
| Alcool : | 40 % |
| Style : | Léger Et Floral |
| Classification : | London dry gin |
| Contenant : | Contenant De Verre Coloré |
| Bouchon : | Plastique Vissé |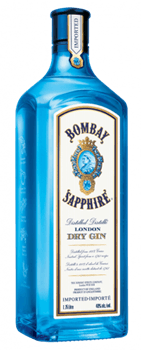 Note de dégustation
.
Note de dégustation (anglais)
Ten carefully selected botanical ingredients are infused with the distilled spirit for a cleaner, crisper, more balanced taste.
Clear water white; complex mix of herbs and juniper on the nose with crisp lemon peel and citrus flavours; smooth and refreshing.
Bombay Sapphire has a ripe citrus aroma with rounded spice and a touch of juniper. The flavours from the 10 botanicals create a gentle, aromatic taste layered with citrus, exotic spices and a hint of sweetness.